Geschenkideen & Weihnachtsgeschenke 2019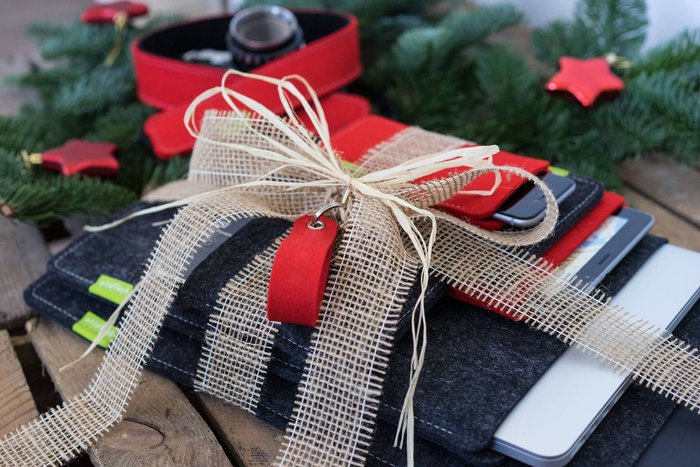 Technikzubehör zu Weihnachten - Sleeves & Hüllen aus Filz
Weihnachten 2019 steht vor der Tür und damit neigt sich das Jahr dem Ende zu. An dieser Stelle bedanken wir uns bei all unseren treuen Kunden und die vielen großartigen Bewertungen die Ihr auch dieses Jahr zahlreich in unserem Online-Shop hinterlassen habt - Kundenbewertungen lesen! DANKE!
Wie jedes Jahr steht man vor der großen Entscheidung das passende Weihnachtsgeschenke & Geschenkideen für Freunde, Familie und Bekannte zu finden und unter dem Weihnachtsbaum zu platzieren. Hier eignen sich unsere WildTech Sleeves & Hüllen aus hochwertigem Merino-Filz ideal. Durch das außergewöhnliche Material und der vielseitigen Farbauswahl ist ein WOW-Effekt garantiert. Unser Produkt sticht aufgrund der etwas andern Hülle aus der Maße hervor und wird häufig als etwas ganz besonderes gewertet - so unsere Kundenmeinungen. Ein Geschenk das auffällt und im Kopf bliebt!
Durch die große Farbpalette von 17 Filz-Farben ist für jeden Typ etwas passendes im Geschenk-Sortiment dabei. Von schlicht bis knallig bunt. Beliebt ist auch die Kombination von Hüllen Geräteübergreifend, sei es für ein Smartphone, Tablet, eBook oder Notebook. Wir sorgen für den optimalen Schutz von euren mobilen Geräten, um auch für das kommende Jahr 2020 bestens gerüstet zu sein.
Jetzt Filz-Hüllen Online bestellen (alle Modelle): https://www.wildtech-shop.de/de/collection/
Aktuell besonders beliebte Modelle:
Be the first to comment...