Ihr Geschenk zum 3. Advent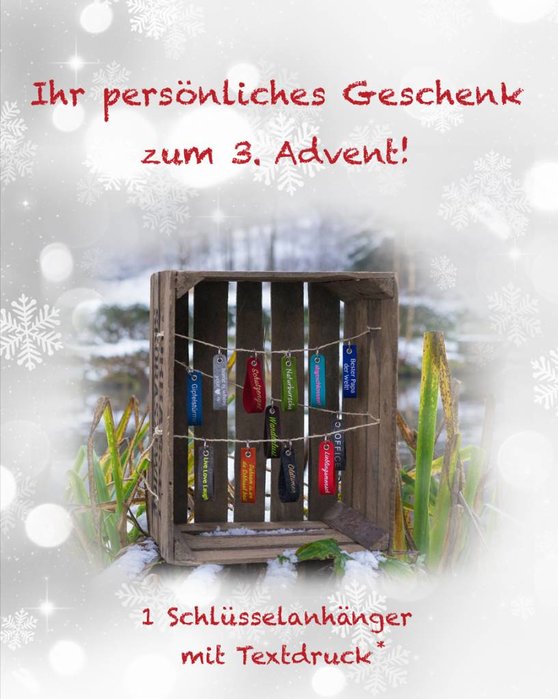 Zu jeder Bestellung, die am 3. Advent (11.12.2016) im WildTech Shop aufgegeben wird,
schenken wir Ihnen einen Individuellen Schlüsselanhänger mit Textdruck im Wert von 13,80 €.
Ihr Gutscheincode:
3-advent-geschenk
Nur für kurze Zeit ab 10 € Bestellwert.*

Designen Sie Ihren persönlichen Schlüsselanhänger aus 17 unvergleichbar schönen Filzfarben, 15 Druckfarben und Ihrem Wunschtext!
Sie suchen nach einem passenden Text? Wir haben für Sie über 60 Textbeispiele zusammengestellt, die Ihnen die Auswahl bestimmt erleichtern oder zu eigenen Ideen inspirieren.

Selbstgestaltete individuelle Schlüsselanhänger eignen sich ideal für den Adventskalender, als Wichtelgeschenk oder auch einfach um sich selber zu beschenken!

Jetzt schnell sein & zugreifen ...
Ihr persönliches Geschenk "Individueller Schlüsselanhänger"
*Der Rabattcode "3-advent-aktion" ist nur am 11.12.2016 (00:01 - 23:59 Uhr) gültig für das Produkt "Individueller Schlüsselanhänger mit Textdruck" und pro Bestellung ab einem Mindestbestellwert von 10,00 €.
Be the first to comment...