Apple iPhone 11 Pro & 11 Pro Max Nachtgrün (Midnight Green) Schutz-Hülle aus Filz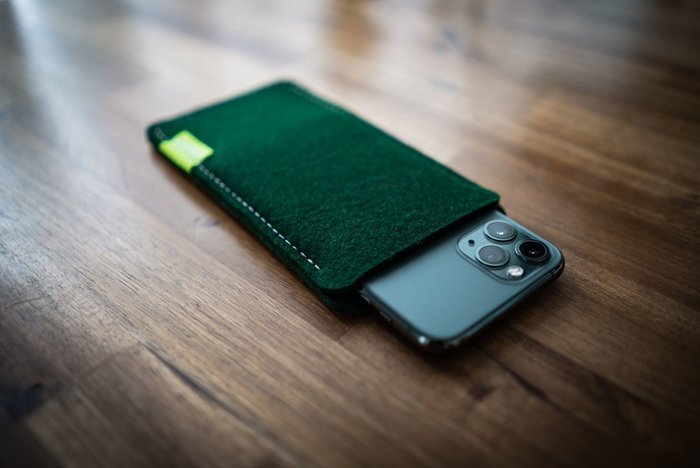 Dieses Jahr hat Apple wieder einmal bei den neuen iPhone Modelle für eine ordentliche Weiterentwicklung gesorgt. Neben dem technischen Part, kam erstmals eine weitere Farbe im Sortiment hinzu. Neu im Produktportfolio dabei ist nun die Farbe mit dem Namen Nachtgrün bzw. Midnight Green. Dabei setzt Apple bei der Glasrückseite auf ein mattes Finish, das sich sehr edel in der Haptik anfühlt und nicht mehr wie gewohnt, im Vergleich zu den vorherigen Modellen, glänzend gefertigt wird (iPhone XS). Nur die Kameraausparung ist in Glanz gehalten, genauso wie die Edelstahlmaterial-Umrandung. Das neue Nachtgrün ist aus unserer Sicht eine sehr sinnvolle Ergänzung zu den bisherigen Farben Space Grey, Silber und Gold. Das Nachtgrün ist, abhängig vom Betrachtungswinkel, recht dunkel und kommt sehr dezent daher. Dies lässt den iPhone-Look sehr edel und elegant wirken.
Unsere Schutzlösung:
Genau aus diesem Grund haben wir es uns zur Aufgabe gemacht, diesen besonderen Look aufzugreifen, eine neue Farbe designed und in unserem Online Shop gelistet. Ab sofort habt ihr die Möglichkeit unsere Hülle entsprechend in der Farbe Nachtgrün/Midnight Green online zu bestellen! Dabei setzen wir wie gewohnt weiterhin bei unseren Schutzhüllen auf das hochwertige Merino Wollfilz/Filz Material. Mit unseren WildTech Sleeves ist euer neues iPhone 11 Pro & iPhone 11 Pro Max ist damit optimal geschützt gegen Kratzer, Schmutz und Sturz. Solltet ihr parallel ein zusätzliches Case, wie z.B. ein Apple Leder & Silikon Case oder ein andere TPU Case, nutzen, so bieten wir euch die Möglichkeit im Bestellprozess das Modell anzugeben. Unser Team berücksichtigt dies für optimale Größe bei den Hüllen, um euch so den optimalen Schutz zu gewährleisten. Hüllen aus echter handgefertigter Qualität made in Germany!
Apple iPhone 11 Pro & Pro Max Filz Hülle Nachtgrün jetzt online bestellen:
https://www.wildtech-shop.de/de/apple-iphone-sleeve-nachtgruen.html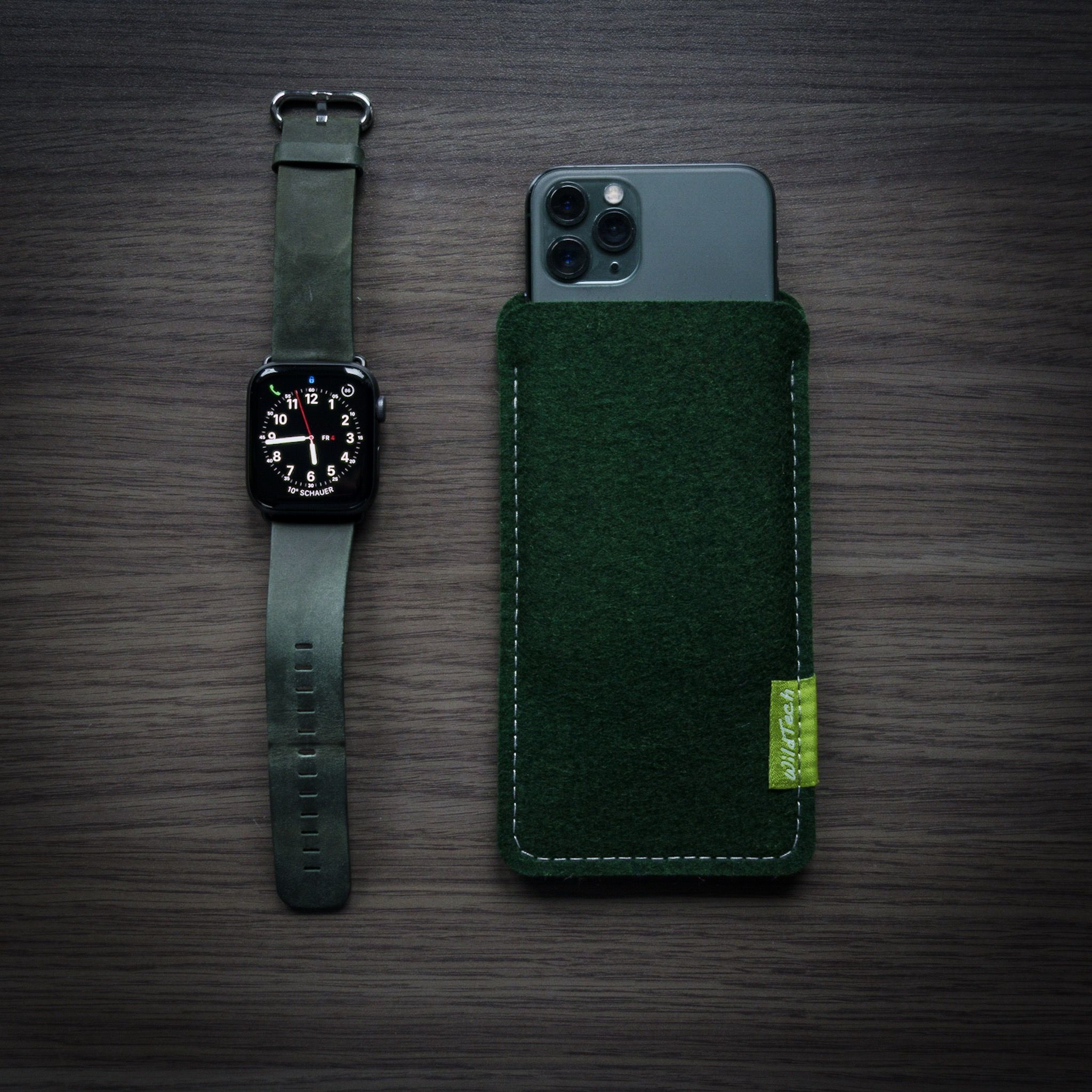 Be the first to comment...