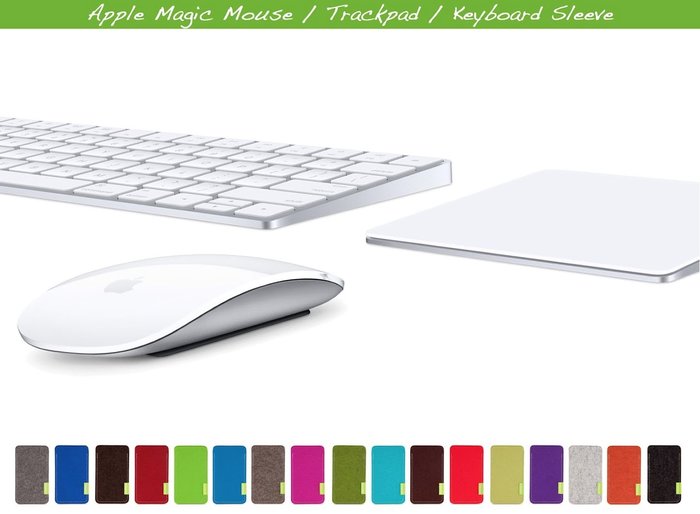 Eine magische Begegnung - WildTech trifft auf Apple Magic

Für zu Hause, im Office oder für unterwegs? Wollfilz liegt voll im Trend und passt heutzutage in nahezu jede moderne Umgebung. Das zeigen zum Beispiel auch die Arbeiten vieler namhafter und junger Designer. 

Dank seiner Eigenschaften, wie z.B. wärmend, isolierend, schalldämmend, wasserabweisend, feuchtigkeitsregulierend und schwer entflammbar, trägt reiner Wollfilz sogar zu einer gesunden Wohnkultur bei.

Die WildTech Sleeves und das Magic Zubehör von Apple (Keyboard, Mouse, Trackpad) ergänzen sich optimal. Nicht nur in ihrer Funktionalität, sondern auch in ihrem formvollendeten minimalistischen Design.

Die WildTech Sleeves eignen sich besonders gut, wenn Sie Ihr Apple Magic Zubehör häufig im Alltag mit sich führen und beim Transport (z.B. in der Tasche vor Schmutz, austretender Flüssigkeit und spitzen Gegenständen) oder im häuslichen Gebrauch vor leichten und schweren Verschmutzungen (z.B. Staub, Kratzern Tierhaaren etc.) schützen möchten.
 
- 17 Filzfarben
- wasser- und schmutzabweisendes Material
- hochwertige und solide Verarbeitung
- Nähte an der Öffnung doppelt verstärkt
- Kontrastnaht in Hellgrau
- Filzstärke 3mm (x2)
- 100% Naturprodukt - frei von chemischen Stoffen
- Handmade in Germany
Weiter zu den Kategorien:

Apple Magic Mouse Sleeve


Apple Magic Trackpad Sleeve




Apple Magic Keyboard Sleeve





Weitere WildTech Produkte finden Sie unter:




www.wildtech-shop.de




Sie haben Fragen? Wir beraten Sie gerne.



Ihr WildTech Team


 
Be the first to comment...