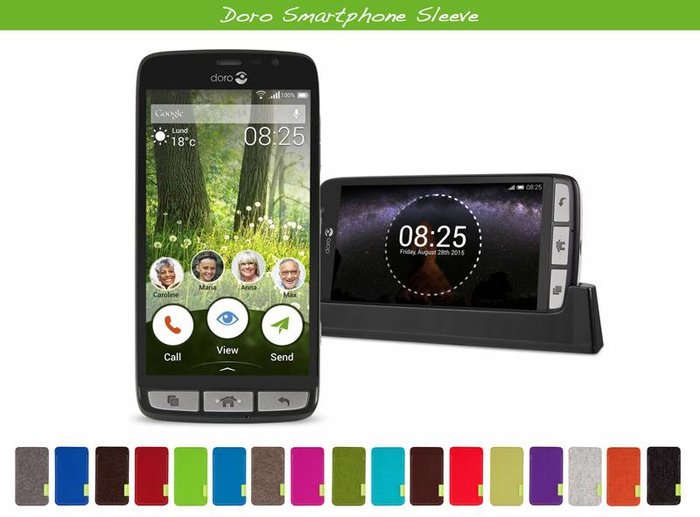 Kennen Sie Doro? 

Das Unternehmen Doro ist ein europäischer Marktführer für einfach zu bedienende Mobiltelefone. Insbesondere ältere Kunden, mit Einschränkungen im Seh- und Hörvermögen sowie Tastsinn, schätzen die intuitive und einfache Navigation, das ergonomische Design und die vielen praktischen Features (z.B. Hörgerätekompatibilität, Notruf-Funktion mit GPS Ortung, Ladestation für induktives Aufladen des Akkus). 
Drei weitere faszinierende Doro Innovationen, die älteren Smartphone-Nutzern das Leben erleichtern, sind:
 


Schritt-für-Schritt Anleitung


Smartphone-Einsteiger erhalten für die wichtigsten Funktionen eine integrierte Schritt-für-Schritt Anleitung über ihr Doro Smartphone.


My Doro Manager

 
Aktuellere Doro Modelle lassen sich von vertrauenswürdigen Personen über kostenlose Fernverwaltungs-App steuern.


Doro Selection


Doro führt eine Vorauswahl an nützlichen Apps speziell für den älteren Kundenkreis durch.

Jetzt Doro Smartphones bei EURONICS ansehen:


Doro Smartphones (Link)


 
Im WildTech Shop finden Sie passgenaue Sleeves für Ihr Doro Smartphone.

Jetzt passendes Doro Sleeve ansehen: 


Doro / Doro Liberto Sleeves (Link)



Sie haben Fragen? Wir beraten Sie gerne.

Ihr WildTech Team 




Verwandte Begriffe:
Seniorenhandy, Senioren-Smartphone 
Be the first to comment...