Marktstart iPhone SE & iPad Pro 9.7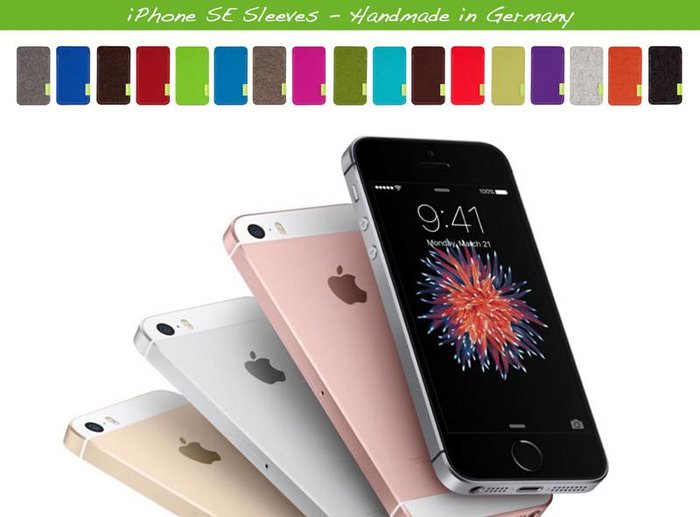 Die wichtigsten technischen Fakten und Neuheiten haben wir für Sie kurz zusammengefasst.

iPhone SE
Das kantige 4-Zoll-Gerät, das optisch dem iPhone 5S sehr gleicht, kommt mit seiner höheren Leistungsfähigkeit problemlos an das iPhone 6S heran und gewinnt eindeutig die Fans von kompakten und leistungsstarken Smartphones für sich zurück (2 GB RAM, A9-Chipsatz, ca. 10 Stunden Akkulaufzeit, 12 Megapixel-Kamera mit 4K-Funktion).



iPad Pro 9.7
Das kleine iPad Pro 9.7 glänzt im Vergleich zu seinem großen Vorgänger, dem iPad Pro 12.9, mit mindestens der gleichen Leistung (A9X-Chipsatz, ca. 10 Stunden Akkulaufzeit, Bildschirmauflösung von 264 ppi, Apple-Pencil-Kompatibilität, 4 Lautsprecher etc.). Darüber hinaus hat Apple das 9.7-Zoller-Modell auch mit einigen neuen Eigenschaften versehen (4 GB RAM, 12-Megapixel-Kamera mit 4K-Funktion, wide color und true tone display).

Beide Geräte sind in den Farben Silver, Gold, Space Gray, Rose Gold erhältlich.

Die passgenauen Sleeves für das iPhone SE und iPad Pro 9.7 erhalten Sie bei uns (u.a. auch für die Nutzung mit einem Case / Cover / Bumper). Der Versand erfolgt innerhalb von 1-2 Werktagen nach Zahlungseingang.
✔ 100% Naturprodukt
✔ 17 außergewöhnliche Farben
✔ optimale Passform
✔ individualisierbar mit Text-/Logodruck
✔ Handmade in Germany

Jetzt einfach & bequem einkaufen...

Zur Kategorie: Apple iPhone Sleeves
Zur Kategorie: Apple iPad Sleeves

Weitere WildTech Produkte finden Sie unter:
www.wildtech-shop.de

Sie haben Fragen? Wir beraten Sie gerne.

Ihr WildTech Team
Be the first to comment...