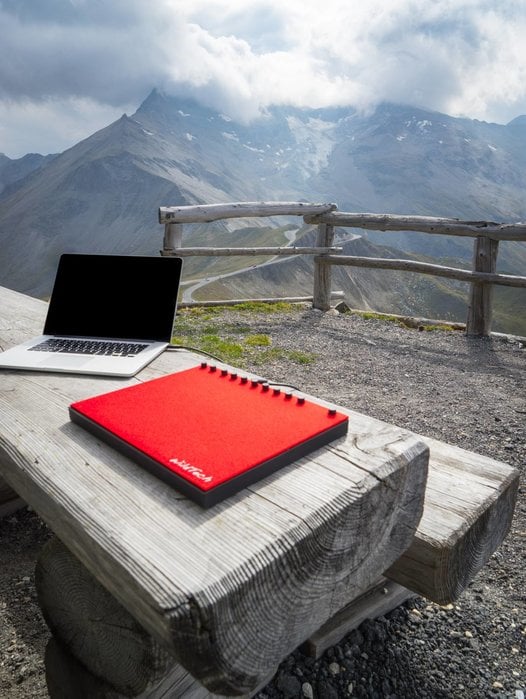 Minimalistisch, stylisch, praktisch - das WildTech DeckCover
Das WildTech DeckCover sorgt für den optimalen Schutz für den Ableton Push 2 / Push 1* und für einen abwechslungsreichen Look im Musikstudio.

Musiker, Musikproduzenten und DJs stehen bei der Nutzung ihres Ableton Push oft vor der gleichen Frage. Wie schütze ich meinen Ableton Push-Controller bestmöglich im Musikstudio, im Club oder auf der Bühne, während er mal nicht in Gebrauch ist?
Jeder Nutzer weiß, wie schmutzanfällig sowohl die 64 gummierten drucksensitiven Pads als auch die zahlreichen Funktionstasten sind und wie schwierig es ist, diese wieder von Staub, Krümeln und eventuell klebrigen Flüssigkeiten zu befreien.

Bislang sind hauptsächlich Kunststoffabdeckungen aus Polycarbonat oder Acryl auf dem Markt vertreten. Solche Abdeckungen sind sehr sperrig, z.B. beim Transport. Zudem haben Kunststoffabdeckungen alle das gleiche Erscheinungsbild und heben sich kaum bis gar nicht voneinander ab. Es fehlt ihnen einfach das gewisse Etwas, um dem eigenen Ableton Push eine persönliche Note zu verleihen.
Bei der Entwicklung des WildTech DeckCovers haben wir uns auf drei wichtige Kritierien fokussiert.
Optimaler Schutz:
Das DeckCover ist passgenau zugeschnitten. Die Aussparungen für die Drehregler verhindern ein Abrutschen des DeckCovers. 100% hochwertiger Merino-Wollfilz ist ein reines Naturprodukt und bringt die besten Eigenschaften der Natur mit sich. Der Filz ist nicht nur robust, langlebig, atmungsaktiv, hautfreundlich, hitze- und kälteisolierend, sondern auch wasser- und schmutzabweisend.
Einfache Handhabung:
Das DeckCover lässt sich einfach über den Push-Controller legen und bei einem Wechsel der Location zum Beispiel einfach zusammengerollt transportieren.
Stylischer Look:
Wollfilz liegt schon seit langem voll im Trend und passt heutzutage in nahezu jede moderne Umgebung und Wohnkultur. Das zeigen zum Beispiel auch Arbeiten vieler namhafter und junger Designer. Das WildTech DeckCover ist in 17 außergewöhnlichen Farben erhältlich. Das DeckCover in der Lieblingsfarbe, kann nicht nur den Künstler, sondern auch seine Musik am besten widerspiegeln.

WildTech DeckCover ansehen: Link öffnen
WildTech DeckCover individuell gestalten: Link öffnen
*Ableton Push ist ein Hardware-Controller/Musikinstrument ausgestattet mit 64 drucksensitiven Pads für die Produktion von digitaler Musik.
Be the first to comment...