PocketBook InkPad 3 Sleeves erhältlich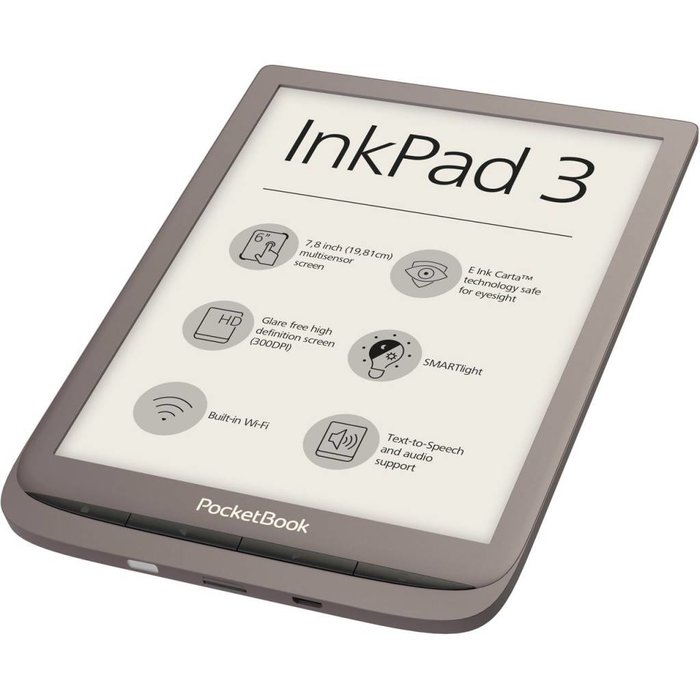 Die eBook Reader werden zunehmend besser und die Vielfalt der verschiedenen Modelle ebenfalls immer größer. Neben den Platzhirschen, wie Amazon Kindle oder Tolino Vision, ist die schweizer Marke aus Lugano mit dem Namen PocketBook auch ein sehr interessanter Hersteller und eine durchaus gute Alternative. 
Besonders interessant ist das beachtlich große Display in 7.8".  Mit einer Auflösung von 300 dpi wirkt das Leseerlebnis wie ein gedrucktes Buch und ist damit sehr gut fürs lange Lesen geeignet. 
Die integrierte SMARTlight-Technologie macht das Lesen noch angenehmer für die Augen. Neben der Helligkeit ist hier auch die Farbtemperatur regulierbar. Diese Technologie ist auch bekannt von dem iPhone X. Anhand der Tageszeit wird die Farbtemperatur so eingestellt, dass diese sich dem menschlichen Biorhythmus anpasst. 
Kraftvoll ist der PocketBook InkPad 3 Reader ebenfalls. Mit einer Dual Core Leistung 2x1 GHz sind die Reaktionszeiten unglaublich schnell, sei es beim Blättern oder dem Wechseln von Anwendungen, wie MP3 oder Hörbuch (Multi-Media).
In der Hand liegt der PocketBook Reader sehr angenehm und sieht vom Design her, dank der abgerundeten Ecken und der Soft-Touch Oberfläche, zudem sehr harmonisch aus. Mit nur 210 g ist der InkPad 3 Reader bestens geeignet für Reisen, Büro oder zu Hause.
Schützen Sie Ihren neuen PocketBook InkPad 3 gegen Sturzschäden, Kratzern & Schmutz. Unsere Schutzhüllen/Sleeves aus echtem Merino Filz besitzen eine optimale Passform, bestechen durch eine hohe Qualität und sind einzigartig in der Optik sowie Haptik. Handmade in Germany. Mehr dazu finden Sie hier: https://www.wildtech-shop.de/de/ebook/produkte/pocketbook/
Eigenschaften:
| | |
| --- | --- |
| Anzeige: | E Ink Carta |
| Auflösung: | 1404 x 1872 |
| Displaygröße: | 7,8 Zoll |
| Touchscreen: | ja |
| Beleuchtung: | SMARTlight |
| Prozessor: | Dual-Core (2x1 GHz) |
| RAM: | 1 GB |
| interner Speicher: | 8 GB (ca. 7GB für Nutzerinhalte verfügbar) |
| Kartenart: | Micro SD bis zu 32 GB |
| Akku: | 1900 mAh Lithium-Pol |
| Anschlüsse: | Micro USB |
| E-Book Formate: | PDF, PDF(DRM), EPUB, EPUB(DRM), DJVU, FB2, FB2.ZIP, DOC, DOCX, RTF, PRC, TXT, CHM, HTM, HTML, MOBI, ACSM |
| Bildformate: | JPEG, BMP, PNG, TIFF |
| MP3: | ja |
| WIFI: | Wi-Fi 802.11 b/g/n |
| Text-to-Speech: | Englisch (15 zusätzliche Sprachen zum kostenlosen Download) |
| Sonstiges: | E-Book-Shop, Bibliothek, Wörterbuch, Browser, Audioplayer, Galerie, Taschenrechner, RSS News, Klondike, Schach, Scribble, Sudoku |
| Extras: | Wörterbücher Englisch - Deutsch, Webster's Dictionary 1913, Micro-USB-Audioadapter, ABBYY Lingvo® Wörterbücher (24 Sprachkombinationen) |
| Onlinedienste : | PocketBook Cloud, ReadRate, Dropbox, Send-to-PocketBook |
Be the first to comment...